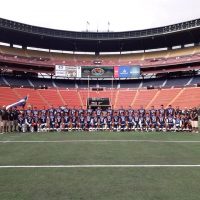 By John Raynar
After months of preparation, Team Amerika Samoa's High School All Stars beat the vaunted Northern California Football Team.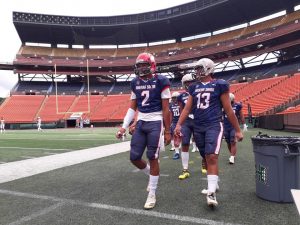 California, a state that boasts the highest number of Division 1 Football recruits in the country, could not contain the boys from the 684.
Sophomore Quarterback, Francisco Mauigoa led American Samoa's team to two touchdowns to California's lone score.
Final score: Amerika Samoa 14, Northern California 7.
The All Stars featured notables from all across the territory, like Steven Fiso of Fagaitua, Koizon Ozu of Tafuna, Okland Salavea Jr from Faasao Marist, Anthony Feala of Samoana and Iverson Taase of Leone.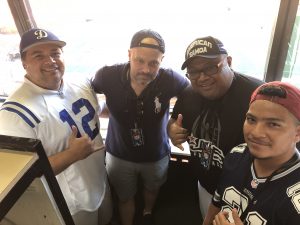 The coaching staff this year also proved to be a very cohesive unit with Samoana's Pati Pati as Defensive Coordinator, Suaese Pooch Taase of Fagaitua handing playcyling on offense, and Tafuna Warriors Head Coach Kevin Magalei as Amerika Samoa's Head Coach.
American Samoa's defense was also able to contain California thanks to stellar efforts up front by CJ Sunui, Filipo Kolone, Norman Heather and Alex Peric.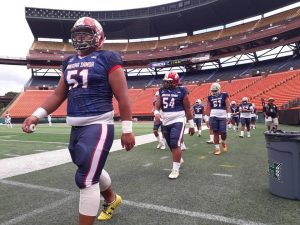 Amerika Samoa plays Hawaii Fire in the JPS Championship game on Saturday, meanwhile the 7th and 8th graders will face off against Hawaii East in the consolation game today.
Both games will be aired exclusively on V103, with coverage sponsored by Hawaiian Airlines, Purse Seine Samoa, Cost U Less, Field Fresh Milk and McConnell Dowell!
Photos: Joey Cummings