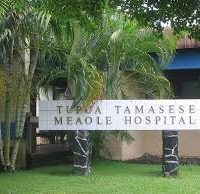 A 14-year-old girl has died at Samoa's Tupua Tamasese Meaole Hospital, allegedly from typhoid and dengue fever.
Typhoid is a type of fever spread by eating food or drinking water contaminated with the feces of an infected person.
A family member told Samoa Observer the doctors told the family that the girl died due to typhoid and dengue fever, which caused the failure of her vital organs.
Leota Faaui Mika Samuelu said his niece had been admitted last Friday and  passed away yesterday morning.
According to the relative, tests had been taken but had to be sent overseas for tests.
Leota told the newspaper that doctors told them his niece had a virus that infected her blood.
"The failure of her kidneys and liver affected her lungs and she had to be put on a ventilator oxygen machine as she could not breathe normally," he said.
"Doctors in the hospital advised the mother in the early hours of yesterday morning that there was nothing much thy could do," he said.
She passed on soon after.