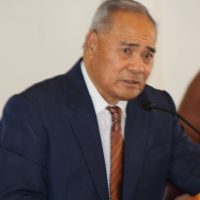 The gubernatorial election is more than a year away, but Governor Lolo Moliga saw a need to bring up the issue of political campaigning during his first cabinet meeting for 2019 held today in the Election Office.
He said that some candidates have already made known their intentions and it's no secret that Lt. Governor Lemanu Peleti Mauga is aiming for the governorship.
He said there are others who are not in government who would be considering running and he feels rules of fairness should be applied so that the people get a fair election and selection of leaders is fair.
Lolo said it was important to discuss this early and he let directors know that he will use his authority as governor to deal with anyone who strays from the rules.
Play AudioLolo-election