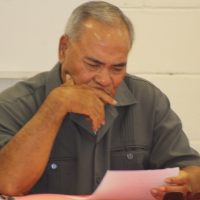 ASG finances was again on the agenda of today's cabinet meeting.
Governor Lolo Moliga said from a deficit of $7.8 million, when their administration first took office in 2013,  they've achieved a positive cash position of $3.9 million at the close of Fiscal Year 2018 last September 30.
As the governor told it when they took office, ASG owed a lot of money to businesses and people.
But in their first year they were able to reduce the deficit to $4.3 million.
Then in the following fiscal year they saw a need to improve roads, schools and the quality of living so they pushed the budget to the limits and in FY 2014 the deficit reached $13 million.
He said many accomplishments were made… roads were paved, schools were repaired and public health services improved.
By the end of FY 2015, the deficit was down to about $4.7 million, and the deficit continued to drop in FY 2016.
Lolo summarized that at the end of FY 2017, for the first time ASG finished the year in the black with a positive cash position of $786,000.
Play Audiofy2018-finances
The governor said the Fono will be presented with a history of ASG's financial report since the start of their administration in the State of the Territory Address he will deliver on Monday.