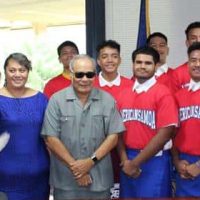 The American Samoa Under 18 men's baseball team was presented an ASG check of $15,000 to help with their trip to the Oceania Baseball Tournament in Guam.
Governor Lolo Moliga said in conversation with the President of the Baseball Association Marcus Langkilde, Coach Victor Langkilde and parents that money spent on the youth is money well spent.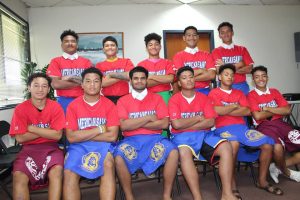 He said while a lot of focus is on football, baseball is another sport that our youth can do well in.
And the good thing about baseball, said the governor, is that the chances for injuries are minimal, unlike football.
In addition to the $15,000 check, the governor also instructed his staff to look for cases of wahoo for the team to take to Guam.
He said, "You can make tuna sandwiches and stay fit and stay off fatty foods like povi masima."
A team T-shirt was presented as a gift to the governor.
Association President Marcus Langkilde spoke with KHJ News about the team.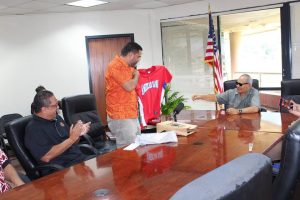 Play Audiobaseball_oceania_marcus
American Samoans residing in Guam such as meteorologist Carol Maafala Baqui, are waiting to host the team when they arrive.