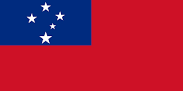 The bad weather has claimed the lives of two men who went missing while swimming three days ago in a village east of Apia.
Samoa emergency services have called off the search for a man presumed drowned at Luatuanuu village.
According to TV1Samoa, the search for Va Tua ended after an extensive two-day search by emergency services, police and villagers.
A second body was recovered but all they could find of Tua was his t-shirt.