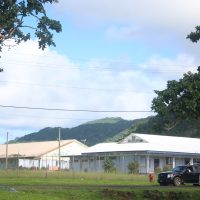 Drugs hidden in a hair-gel bottle and circulated by inmates and officers of the Territorial Correctional Facility has seen three ex-police and corrections officers and two brothers in court last Friday.
KHJ News yesterday named the former police and corrections officers involved as Lagaali Jim Stanley, Faavae Papatu and Leasi Neueli.
Samoa News reports today that two brothers, Vincent and Spencer Toeava, are also charged in the alleged crime.
All five are being held at TCF on bail of $20,000 each.
Vincent Toeava has been in custody for most of last year for his alleged role in the Department of Human and Social Services food stamp fraud case and is unable to post the $450,000 bond.
Police were called to TCF last October after an officer found two straws in a bottle of hair gel that had been given to an unsuspecting TCF officer by Vincent Toeava to be delivered to a female inmate, Meriko Lomu.
Lomu pled guilty to drug possession, both marijuana and methamphetamine, with intent to distribute and will reappear for sentencing February 8th.
According to Samoa News, police were told by a witness that Stanley, Papatu, and Neueli along with Toeava's brother Spencer "made drug runs and drop-offs" for Vincent Toeava from the supplier.
Vincent Toeava is alleged to have paid Stanley and Neueli $50 cash and $50 worth of "ice" for their role while Papatu was allegedly given a "marijuana cigarette every time he came into work."