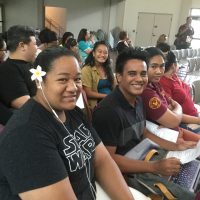 There were no takers for an offer by the ASG Financial Aid Board to get students from the last graduating class at the American Samoa Community College to take up trade studies.
According to DOE's Financial Aid Office not a single application was received for the trades scholarship/loan.
Intended to address the shortage of local skilled workers in trades like engineering, carpentry, automotive, electrical and other trades, financial aid for trades courses at ASCC was announced in early December.
The scholarship/loan is $2,000 per semester for one year at ASCC and was offered for the first time to students of the college class which graduated last month.
ASCC President Dr. Rosevonne Pato had said at a presentation by DOE on the scholarship/loan that it was an opportunity for ASCC graduates who don't get a scholarship to go off-island to return to ASCC for trade studies.
It's a well known fact that most of the electricians, air conditioning repairmen, auto mechanics and carpenters on island are not local.
The ASG Financial Aid Board came up with the offer to try and address the shortage of local skilled tradesmen and women.
According to the DOE financial Aid Office the loan scholarships will be offered again to the next graduating class of ASCC.