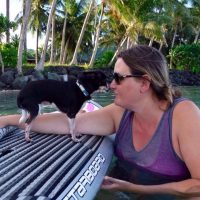 Pet owners are concerned that the current veterinarian at the Department of Agriculture is finishing her contract this month and no one will be taking over when she leaves.
Kristen Jensen  has been the territory's veterinarian since 2015.
Her last day on the job is Friday but DOA is extending her contract until January 28th with the hope that a replacement will be on board.
Director of Agriculture Filifaatali Mike Fuiava says it's been hard to attract a veterinarian from off island.
He says the salary for  a qualified vet is available but they just haven't been able to attract the right fit.
He says they are not just looking at the US but also the neighboring islands for a vet.
Some of the long time vets who worked at DOA in the past were Samoan citizens who received their credentials from universities in the Philippines.
Filifaatali says he's praying that by the time the current veterinarian leaves the island they would have someone in line to take over.  He said, "We will do our best to get a vet on board."
A pet owner said, "It's just a shame that with the dog population American Samoa already has, it can only get worse not having a licensed vet available."
He added that Miss Jensen was always helpful with yearly shots and any medicine for his dogs which were brought from the US when he moved here.
Miss Jensen has worked with the Alofa mo Meaola organization in village spay and neuter clinics.