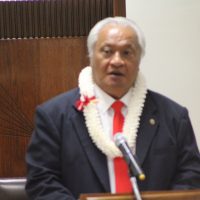 The vote was unanimous – all 20 voting members of the 21-member House of Representatives voted for Savali Talavou Ale of Alataua District to serve as Speaker in the 36th Legislature.
His was the only name nominated for the ballot.
Play Audio Speaker Election
Representative Gafatasi Afalava of Leasina Aitulagi nominated Savali and the nomination was seconded by Representative Vaetasi Tuumolimoli Moliga.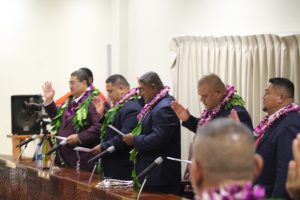 One of the four representatives who was not in Savali's camp, Vesiai Poyer Samuelu of Pago Pago, took the floor and said he had wanted to second Savali's name but since he did not get the chance further agreed with the nomination.
Representative Vesiai entered the chamber together with Representatives Vailoata Amituanai, Larry Sanitoa and Andra Samoa and the four sat together.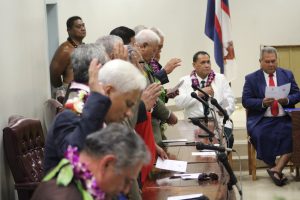 The secret ballot was conducted and there were 20 votes for Savali.
The Swains faipule does not have a vote.
Only one name was presented for Chief Clerk of the House and that was Vaiaitu Mulinuu Maluia and similarly for Sergeant-at-Arms, to which Line Olo has been re-elected.
The swearing-in began with a prayer by Reverend Otineru of the CCCAS Fagalii, followed by the oath of office administered by Chief Justice Lealaialoa Michael Kruse.
Play Audio Oath
Election Commissioner Dr. Lealofi Uiagalelei presented the certification of election results verifying that all House members had been duly elected in the November 6, 2018 elections.
Speaker Savali thanked his colleagues for their trust and confidence in him to lead the House again.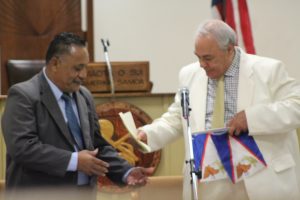 He expressed thanks to God and to the House members for the opportunity to serve the territory.
Due to limited space in the temporary House chamber in the north wing of the Lee Auditorium, only one family member of each faipule was allowed to witness the swearing-in while the rest sat in tents outside.
Speaker Savali announced at the end of the ceremony that an orientation will be held for new House members next Monday.  The opening of the 36th Legislature of American Samoa will be the following Monday.