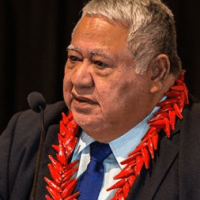 Samoa Prime Minister Tuilaepa Sailele Malielegaoi has called on the Samoa Law Society to ban lawyers who are barred from practicing in other countries from practicing in Samoa.
Speaking on his weekly program on TV1 Samoa, Tuilaepa said, "There are lawyers practising in Samoa who have been de-registered overseas and not allowed to practise there as a result of serious offenses and even severe professional misconduct".
He said the same lawyers are practising in Samoa with total disregard to their past history.
According to the PM the same lawyers have made it a habit to mislead members of the public to sue the government with full knowledge that it's a lost cause.
"And in the end, the lawyers walk away as winners pocketing thousands of tala in legal fees".
Tuilaepa said these lawyers are taking tax payers money through legal aid fees.
He posed the question to the Samoa Law Society if there is any justice in that.
What happened to integrity and honesty?" Tuilaepa asked.
He went on to challenge the Samoa Law Society and other professional organisations to do what is right and lawful.