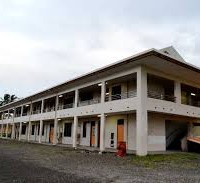 There's strong reaction from parents of Nu'uuli Vocational Technical High School to news of Tafuna Elementary School getting a gymnasium when their high school is still waiting for a gym that has been on the drawing boards for nearly ten years.
DOE officials and parents of students who have graduated from NVTHS have told KHJ News that during the Togiola Faoa Administration CIP funding in the amount of $400,000 had been approved for the NVTHS gym.
However when the Lolo Lemanu government  took office, funding for the gym was redirected.
KHJ News was able to get confirmation that the funding was used to build classrooms at Fagaitua High School.
And since then there has been no further funding allocated for NVTHS' gym.  So the school is the only public high school still without a gym which leaves it without a covered area for assemblies, graduations and other school events.
Meanwhile Tafuna Elementary is the third elementary school to get a gym.
Aua Elementary and Matafao Elementary are the other two.
A former PTA President of NVTHS said he met with the Director of Education to discuss using land that Pacific Products occupied for the gym and there were assurances that the school would soon hear good news, however more than a year later there's been nothing.
Government officials tell KHJ News that the gym for NVTHS is not on the Capital Improvement Program list and neither is it listed under the Governor's Special Programs.