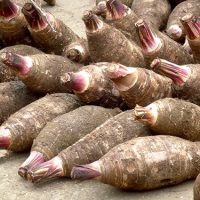 It is highly unlikely that taro from Samoa would be shipped to the mainland United States markets through American Samoa.
That is the reaction from Samoa's Minister of Agriculture Lopao'o Natanielu Mu'a to a suggestion by Director of Agriculture Filifa'atali Mike Fuiava of possible joint ventures between Samoa and American Samoa to meet the demand for taro in the United States.
Filifaatali said there's not enough land in the territory to farm taro at the scale that's needed to export the quantities needed to make it a profitable venture.  And this is where a joint venture between the two Samoa can work, using American Samoa's duty free status for exports to the US.
Minister Lopao'o told KHJ News that Samoa has been shipping fresh taro to US markets directly "for several years now".
"I do not think there is in any benefit except that it will probably cause the price to go up a bit because of the added middle-man costs," said the Minister.
Lopao'o believes Samoa is doing fine right now but at the end of the day, the price rules and maybe if American Samoa can come up with a better deal for Samoa's taro farmers, they may consider it.