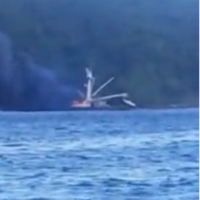 What is believed to have been a small fire on board a purse seiner late this morning, ended up in a burning purse seiner by late this afternoon which was pulled out from the main dock to the mouth of harbor apparently to burn out.
Those who were at the dock earlier today said smoke was seen coming from the purse seiner Jeanette that was anchored at the main dock.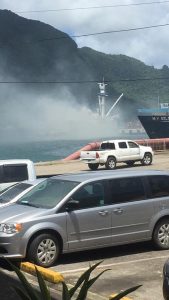 Port Administration halted all operations at the main dock by noon due to the smoking purse seiner.  Fire trucks were at the scene and it appeared that they were dealing with the source of the smoke.
This went on for several hours.
Just after 4 pm the purse seiner was seen being towed out with flames several foot high  and emitting black clouds which covered the Pago side of the bay. The smell of the burning vessel also filled the area,.
An industry source told KHJ News that the Jeanette only retuned from a fishing trip a few days ago and  had not unloaded its catch.
According to the source, the worth of the catch could be about $2 million.
Nothing could be salvaged from the purse seiner including its helicopter, skiff and nets.
An official familiar with fires on vessels was unsure if fire fighters had the right supplies to extinguish the fire. He said water mixed with oil helps spread rather than put out the flames.
As of 4:35,  the Jeanette purse seiner was listing at the mouth of the harbor.