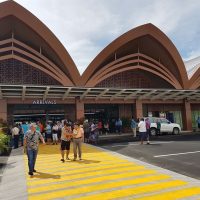 Police were called in after Samoa Airport Authority workers were allegedly threatened by villagers of Satapuala.
The Samoa Observer reports that the standoff happened when workers turned up to start pulling down homes of several families to make way for a planned airport runway extension.
The matter has been a long standing issue between government and some of the families affected, whose traditional leaders had signed an agreement with government, 35 years ago, to vacate the land in return for land inland of Faleolo Airport.
Most of the families affected have heeded the agreement and made the move except for a few who appear to be holding out for a further government payout.
Since police have been on site, there has been no more threats and the work has resumed.
The village mayor said the families were told to vacate last week.
"We will level penalties against anyone who interferes with the ongoing project," said Mayor Vaili Mimita.