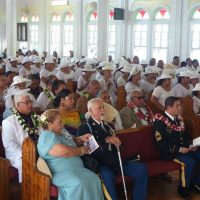 Governor Lolo Moliga led government leaders and US Armed Forces personnel at a special worship service on Sunday to commemorate Veterans Day 2018 at the CCCAS Church Matu'u and Faganeanea.
Led by Rev Asiata Fouvale the service recognized the sacrifices by past and present soldiers to the protection of freedom, and peace of the nation and the world.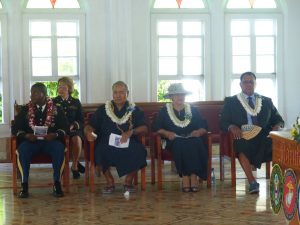 Rev Asiata shared what he felt was the best way to honor the services of our men and women in uniform.
Play Audio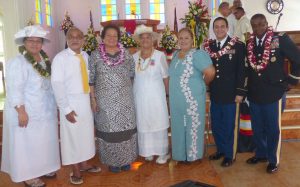 Governor Lolo Moliga gave a special welcome and acknowledgment to the US Armed Forces Band Papana who were present at the Sunday service .
He said it was unusual to celebrate Veterans Day on Sunday but reminded that the nation was founded on God.
Play Audio
And last night at the Tradewinds Hotel, veterans and their families enjoyed a special performance by the Papana Band.
The band was here for the 5th Samoana jazz and Arts Festival which paid tribute to Samoa's First Lady of Jazz, Mavis Rivers.
According to Festival Director Peta Siulepa the band performed a number dedicated to Mavis which was composed by her son Laauli Matt Catingub, the headliner for this year's festival.
Play Audio
General Manager of Tradewinds Hotel Cathie Haleck Paala agreed to have last night's concert for the veterans free of charge.
And the band will have two more performances. One at the ASCC today at 1230pm and the final one at the EOB Atrium tomorrow at 11am.
These are both free concerts made possible by the Samoana Arts and Jazz Festival.
Photos: Leua Aiono Frost