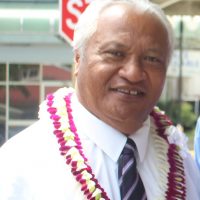 With the election of new members for the House of Representatives behind us, attention now turns to the election of the House Speaker.
Its certain that incumbent House Speaker Savali Talavou Ale will try to solidify support from the returning incumbents and woo the eight new lawmakers.
Campaigning for the leadership position almost always starts on election night after the results are in.
There was no vote for House Speaker after the last elections, with Savali getting unanimous approval from his colleagues.
One can read from Tuesday's election results that voters wanted change and while the number of incumbents who were re elected is more than the number of new members, their victories were by slim margins in what may have been their hardest campaigns ever.
And one cannot discount that some of the senior members of the House may feel its time that they stepped into the leadership position and try and form a pact with the new lawmakers.
If Savali has the numbers to win another term as Speaker he should not be expecting a House that marches to the beat of his drum, all the time, as has been the case for most of the last two years.
He can expect tough scrutiny to come from the likes of Larry Sanitoa, who was a questioning and vocal faipule when he was in the House before, Andra Samoa , a former ASPA CEO and now member of the ASTCA board, and other lesser known members of the crop of freshman faipule.
Loia Gutu was an auditor for the Territorial Audit Office before retirement, Tupua Shaun Vaa  has worked for the Customs Division for 16
years, Vesiai Poyer Samuelu, served in Parks and Recreation for many years before retirement, Logoituau Mark Timoteo Atafua is an employee of  the Medical Information Systems of LBJ Hospital, Lua'itaua Gene Pan has worked on and off in ASG and dabbled in the private sector while Tiaoalii Fau Sai is a military retiree. 
The election of House Speaker takes place after the swearing in of House members  at noon on January 3rd 2019 and until then the campaign for the leadership post is on.