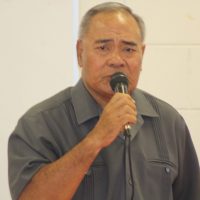 Governor Lolo Moliga has ordered a stop to unauthorized recruitment in government departments.
That's the subject of his latest memo issue yesterday.
The governor says it's come to his attention that the unauthorized recruitment and placement of employees continues to be an ongoing activity among several ASG departments and agencies.
He said this has been emphasized and reiterated several times before and "this practice needs to cease immediately."
An ASG official explained that there are still directors placing people in jobs before meeting the existing personnel rules and regulations.
In addition these directors promise salaries that might contradict with resultant reclassification by the Department of Human Resources.
The practice, said the official,  exposes ASG to potential litigation.
The governor cites  the relevant section of the American Samoa Code Annotated.
"In no instance will a government officials allow an employee to enter on duty unless he has been assured by the Director of Manpower Resources or a designated member of his or her staff that the appointment action has been approved. "
"Further the official effective date for all recruitment and placement actions, as well as other personnel actions shall be established by the Office of Manpower Resources except in the case of resignation, the date of which is established by the employee who is resigning.
"In addition the Director of the Department of Human Resources has primary responsibility for establishing and administering procedures for ruling vacancies in compliance with appropriate federal and ASG rules."
Lolo stated that "to continue with a blatant disregard of the procedures stated puts us in violation of the Fair Labor Standards Act and further exposing ASG to liability.
"Therefore all actions related to recruitment, retention, contracts including change orders, short term extensions and the like will originate from the Department of Human Resources.  The only exception is that of contractors or appointees named by the Governor."