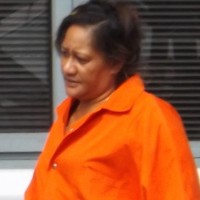 Chief Justice Michael Kruse has granted a continuance of the preliminary hearing for Tumuatasi Lefatia for alleged violation of probation conditions.
Lefatia is the owner of Le Aute Bar which was raided by police in September resulting in the current criminal case against her.
In the current case she is charged with two counts of unlawful possession of a controlled substance, methamphetamine and marijuana and two counts of possession of the same drugs with intent to distribute.
The government believes she has violated her probation from a 2017 sentence in which she was prohibited from consuming drugs. That case also was the result of a raid of Le Aute in 2015.
According to Samoa News, last Thursday Lefatia's attorney, Marcellus Uiagalelei requested a continuance of the preliminary hearing until her pending case is resolved in t in he High Court.
Lefatia, who is still in custody, unable to post her $100,000 cash bond, is scheduled to appear in court on November 20 for her next pretrial conference.