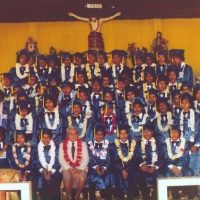 The Catholic education system has always been considered one of the top privately run education systems in the territory.
And it relies heavily on private donations and community fundraising to maintain quality education to the children of American Samoa.
Many successful people in the territory credit Catholic education for their success and show their appreciation by helping raise funds to run the schools.
Next year marks the 50th anniversary of the Marist Brothers High School and Marist Alumni is planning a major celebration.
The Alumni is holding a fundraising golf tournament this Saturday at the Iliili Golf course to go towards the cost of next year's celebration.
Marist Alum Taulapapa Will Sword and  Monsignor Viane Etuale joined John and Sia this morning to discuss the importance of Catholic education.
Play Audiowill-and-viane
The golf tournament will tee off early Saturday morning. For registration and sponsorship, call 258-9455.
FB Photo: 1980 Marist graduating class