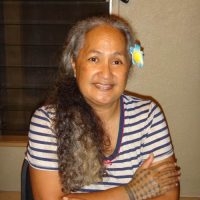 Of the 55 candidates who ran in the House election yesterday, 7 were women.
The only female candidate who won a race was Andra Samoa from Fofo District.
Samoa, a former CEO of the American Samoa Power Authority has run twice before.
The Faasao High School graduate currently serves on  the Board of Directors of the American Samoa Telecommunications Authority.
She is a part time teacher at St Theresa School and is active in marine preservation, youth and women empowerment programs for Leone village.
About her election to the House, Samoa told KHJ News, "I feel humbled with God's plan at this stage of my journey of serving my village and community. I feel so proud of my village to recognize that it is time for change, enabling a woman to be a voice to represent its needs in the legislative branch so there is a connection between legislation and village interest."
She adds, "I am also proud of my committee members who came together to plan a strategy for the campaign."
Samoa acknowledged her predecessor and all those who supported her.
"Thanks to former Rep. Dorian Salavea for being a true winner in accepting defeat graciously. Thanks to my many family members and friends for their support. Thank you to the servants of God who have prayed for me."