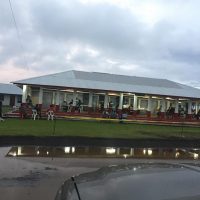 Incumbent faipule for District No 3-Vaifanua Lavea Palepoi Mauga has lost to Tupua Shaun Vaa.
Tupua received 282 votes while Lavea got 242 votes.
A new faipule has also been elected in District No 6-Sua #3. Incumbent Matagi Malotumau Sialega Mauga with 113 votes lost to Loia Gutu with 127 ballots.
District No 10-Maoputasi #4 has re-elected Vaetasi Tuumolimoli Moliga. Vaetasi recieved 109 votes, Tapai Alailepule Ben Vaivao polled 76 and Tina Vivao Ioane received 27 votes.
In District # 11-Maoputasi #5 incumbent Faimealelei Anthony Allen outpolled his opponent Muiavanoa Fofoga Pila  171-154
District No 14-Alataua has returned House Speaker Savali Talavou Ale.  Savali received 266 votes, Fatumalala Al Shehri -64 and Mona Uli-15.
In District No. 16-Tuala-tai Timusa Tini Lam Yuen has been re-elected with 198 votes, Manavaalofa Tutuila Manase-182, Manu Talamoa-118 and Peni Te'o-34.
The results of the referendum on the veto override power
No : 5,957
Yes: 2,605