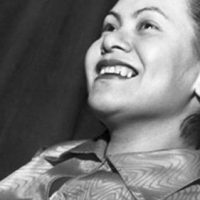 The Samoana Jazz and Arts Festival Board welcomes a Proclamation by Governor Lolo Matalasi Moliga to declare next week as Jazz Week in American Samoa.
"This is indeed a wonderful recognition of the contribution of Mavis Rivers to the history of contemporary Samoan Jazz music and the reason we are celebrating the life and music of Mavis Rivers in our 5th year of the Samoana Jazz & Arts Festival," said a statement from the Board.
"Whereas the origins of Samoan Jazz lay with the Rivers family from Apia, Upolu, Western Samoa, Moody and Louisa Rivers had thirteen children including a daughter, Mavis Rivers," declares the proclamation from the governor.
The Rivers family migrated to Tutuila, during WWII, and 12-year-old jazz singer Mavis Rivers began entertaining the troops passing through American Samoa en route to their battlefield destinations in the Western Pacific.
Mavis became known as "their singing mascot".
It was when the family later re-located to the US that Mavis went on to have a successful jazz recording career.
The governor's proclamation acknowledges that Mavis went on to a successful jazz recording career over the remainder of her life, including having been called by Frank Sinatra "the purest jazz voice".
"Whereas the 2018 Samoana Jazz and Arts Festival will pay tribute to Mavis Chloe Rivers, "Samoa's Queen of Jazz" during the festival to be held November 9 to November 11th..
"Now therefore, I, Lolo Matalasi Moliga,hereby declare the week of November 5 to November 11, 2018 "Jazz in American Samoa Week" in celebration of the Samoan Jazz art form, and the contributions made to it and modern jazz by Mavis Chloe Rivers, declared Governor Lolo Matalasi.
The tribute to Mavis Rivers – featuring Matt Catingub Sextet with special guest appearance US Pacific Air Force Band – Papanae will be held at the Lee Auditorium, November 10.
Corporate Cabaret Tickets – $600 for table of 6 or $100 per person.
Other events for the 2018 Samoana Jazz & Arts Festival are:
Jazz & Blues Fiafia Night at he Tradewinds, Friday Nov 9
Tickets available at Tradewinds, Samoa News and American Samoa Visitors Bureau.
Live All Stars by the Sea: Sunday, Nov 11 – 2pm @ $2 Beach.
Call 258-10107 or 33-1920 for more information.