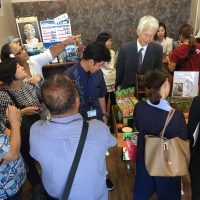 By Monica Miller
We've left the bustling city of Tokyo and flown south to Okinawa, where Samoan marines have served.
We've come to visit the island of Kumejima, home to 8,000, and Japan's first Ocean Thermal Energy Conversion, or OTEC, plant.
From the airport, this part of Japan looks like a step back in time.
There are acres of sugar cane, rice fields, homes that look run down, small stores devoid of customers, and empty streets.
Our taxi driver tells us that the population is fast declining because there are no jobs. He says many young people move to Okinawa' prefecture's capital city, Naha, to look for work.
But we quickly learn that there are some great innovations happening in this laid-back town that are attracting global attention.
Innovations that center around its prized OTEC Demonstration Facility.
OTEC takes advantage of the temperature difference between warm ocean surface and cold, deep ocean water to generate power.
Kumejima's 250 million yen ($US2.2 million) OTEC plant, which is owned by the local government, produces 100 kilowatts of electricity.
And the cold water generated from the  plant is being sold by the government to businesses and cooperatives for producing cosmetics, farming prawns and sea grapes, or limu, as well as oysters.
The main qualities of the deep sea water are its low temperature, its rich nutrients and low bacteria.
Point Pyuru, a producer of cosmetics, is one of the Kumejima-based companies making use of the water generated by the OTEC plant.
The company buys 10,000 tons of water per day, at the cost of 450 yen or $US4.05 per ton, which is piped in from the OTEC plant to Pyuru's modest size factory just a stone's throw away.
The company's president, Atsushi Omichi, was a beautician who researched the qualities of water deep from the ocean off Kumejima and then began producing cosmetic products.
He must've found the right recipe because he says they are producing 10,000 bottles a day and their orders are backed up.
Point Pyuru employs 46 people and makes cosmetics for 80 different clients. Everything from face creams, to lipsticks and shampoo, to remedies for hair loss.
Mr. Omichi says the deep sea water off Kumejima is rich in minerals and the water is of high quality…very clean.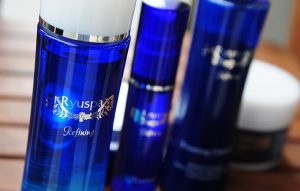 The company also makes use of local ingredients like ginger and certain leaves, as well as seaweed, which it buys from local farmers.
During our visit to the Point Pyuru factory we watch the packaging of an all-in-one gel, which Mr. Omichi says is for the high-end market. What looks like a 12-ounce bottle sells for 13,000 yen, or about $US116.
Mr. Omichi says there are 10 other companies waiting for Point Pyuru to start production of new products, which have been under research and development.
Mr. Omichi proudly tells us that "people worldwide are coming here" to see their products.
This week journalists from the Pacific and Caribbean were added to that list.
News Director Monica Miller is in Japan with a group of journalists from the Caribbean and Pacific as guests of the Association for Promotion of International Cooperation and the Foreign Press Center Japan.