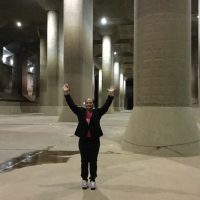 By Monica Miller
"Don't be alarmed if your hotel room shakes. You'll be safe."
I've heard that several times since arriving in Japan.
Yesterday I got to experience what a magnitude 7 earthquake is like, and survived.
It wasn't a real earthquake, but rather a demonstration of one at a Life Safety Learning Center operated by the Tokyo Fire Department.
Here, schoolchildren and other visitors learn about what to do in an earthquake, flooding, fire and other natural disasters.
Inside the earthquake simulator, there's a table with cushions on the top, a plastic cupboard in the corner, and a box for the gas supply on the wall.
Our guide from the Tokyo Fire Department tells us what to do as soon as we feel the shaking.
"Get under the table and hold on to the table legs. And don't get up until the shaking stops."
He gives more instructions: "When the earthquake stops, cover your head with a cushion and turn off the gas so there's no fire, then exit through the side door."
The shaking will last for 15 seconds.
I pair up with a colleague from Trinidad and Tobago, Kim Boodram. We are the first in our group to give it a try.
The earthquake starts off like a quiver, much like when a heavy loader passes by, but then the place just rocks.
We duck for cover under the table and follow the instructions to hold onto the table legs. The cupboard falls down and the shaking continues for what seems like 15 minutes instead of 15 seconds.
The fact that it was just a demonstration didn't take away the scary feeling of, "What if a real one happens and I'm in my hotel room on the 7th floor? Wouldl I be able to make it out safely?"
As soon as the shaking stops, we get up from under the dining table, place cushions on our heads and, since I'm closest to the water heater switch, I turn it off before we make our exit.
Consider that what we experienced is the same thing that elementary schoolchildren in this country are exposed to.
It's like they are embedded with disaster preparedness intelligence from a very early age.
In addition to school tours at the the Honjo Bosai-kan, or Life Safety Learning Center, the Tokyo Fire Department also has versions of the training center on wheels that make school rounds.
Earthquake and disaster drills are held regularly in schools — not just during Disaster Preparedness Week, like we do.
After each disaster that Japan experiences, disaster officials take stock of lessons learnt and then come up with ways to prevent loss of life and property.
One of Japan's inventions is to bolt down furniture in homes and offices so they don't fall or move around and kill or injure occupants.
This is an island nation that takes disaster training and education very seriously.
Facilities like the Life Safety Learning Center is an example of Japan's investment in making sure its people are equipped with the skills and knowledge to protect themselves in life-threatening disasters.
News Director Monica Miller is in Japan with a group of journalists from the Caribbean and Pacific as guests of the Association for Promotion of International Cooperation and the Foreign Press Center Japan.