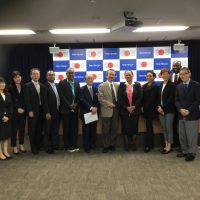 By Monica Miller
I'm among five senior journalists from the Pacific and Caribbean being hosted by the Association for Promotion of International Cooperation and the Foreign Press Center Japan.
The others are from Palau, Fiji, Trinidad and Tobago, and Saint Vincent and the Grenadines.
The coordinator of our program is Honolulu-based journalist Mr. Floyd Takeuchi, who has done media projects in American Samoa.
He published Pasefika, a book of his photos from the Pacific Arts Festival that we hosted in 2008, and also produced three American Samoa calendars during the Togiola Faoa administration.
This is the fourth year that journalists from the Pacific and Caribbean have come to Japan to report on Japanese environmental practices and disaster mitigation initiatives. Christine Moetala Faiupu of KVZK-TV was a participant last year.
Disasters are the focus of this year's program, and today was the start of a full-on agenda of visits to government and private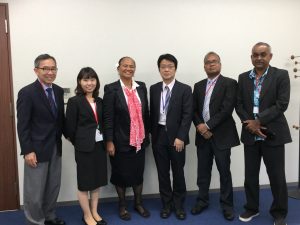 organizations, which deal with disaster preparedness, response, weather monitoring, and management of waste from disasters.
Visits to areas of Japan that suffered great loss of life and property from natural disasters are also included.
While American Samoa's status as a US territory precludes direct assistance from Japan like that provided to Samoa and other independent neighbors, it does benefit from Japanese development assistance through its membership in regional organizations such as the South Pacific Regional Environment Program and the Pacific Community.
One of the new initiatives in waste management that is being discussed with SPREP member countries is the establishment of regional recycling centers that would collect cans, bottles, aluminum and even junk cars from the region and ship them to manufacturing countries.
Shipping costs and the low volume of recyclable items make it cost-prohibitive for individual countries to go at this alone, so establishing regional recycling hubs is being looked at as a solution.
This may well provide the answer to what GHC Reid general Manager Cherith Lober said was a drawback in their company's recycling of soda cans …the cost of shipping to buyers off island was too high for the volume that they collect.
Regarding disaster prevention and preparedness, I'm particularly interested in learning about Japan's approach to giving its citizens resources and incentives to protect their lives and properties before a disaster happens rather than responding after disaster strikes.  Some regional governments store disaster relief supplies in special warehouses, everything from blankets to water and food.
We'll also be visiting communities that have their own self-contained energy systems and emergency response plans.  And we'll see how the part of Japan that was hit hard by the worst earthquake in Japan in modern history, the Great East Japan Earthquake and tsunami of 2011, are rebuilding their lives.
We are also meeting an award-winning journalist from Sendai who oversaw his newspaper's coverage of the earthquake and tsunami and is now a top trainer on disaster reporting in Japan.