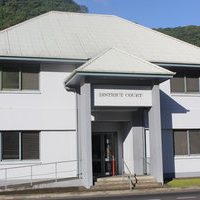 An Asian businesswoman has been charged with bribery of a public servant for allegedly offering money to a police officer to release one of her employees who had been arrested for public peace disturbance.
Ping Yang who  made her initial appearance in District Court this morning is being held on bail of $5,000.
According to court filings, Ms Yang, the owner of a restaurant had gone to the central police station in Fagatogo Monday to inquire about the arrest of her employee.
Detective Ioane Paselio was outside the police station when she exited after she was told why her employee had been taken in.
According to Paselio, the defendant said that the employee was her cook and there was noone to cook food at her restaurant.
She then took money…the amount was $60… from her wallet, crumbled it and put it in the officer's hand.
She also told the officer to go an release the cook, said the court affidavit.
The woman was read her constitutional rights by another detective and she stated she does not understand English, and wanted to speak to her sister.  She was booked and confined.
Tuesday morning, Assistant Public Defender Ryan Anderson moved for a reduction of bail for the businesswoman citing she is not a flight risk and allegations against her were not of a violent nature.
However the motion was denied and bail remains at $5,000.