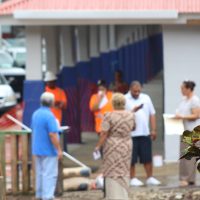 Work is continuing on the new fire station at the site of the historical building which once served as the US Navy bakery in Fagatogo.
KHJ News has received confirmation that a change order is in the works to Nana's Company to build the new fire station as part of the Department of Public Safety renovation project.
However efforts to obtain details about the change order have not been successful.
A Public Works official who handles special projects said the fire station project is overseen by the Governor's Office.
Public Works did the drawings for the fire station and a land use permit for the project has been approved by the Project Notification and Review System Board.
KHJ News understands that the dedication of the renovated DPS Building is being delayed until the fire  station is completed.  DPS is currently occupying the Lumanai Building.