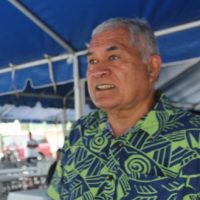 The family of Utu Abe Malae has released the program for his funeral services this week.
A family service will be held at 5pm this Wednesday at Lee Auditorium and his funeral services and burial will be held Friday.
There will be a service at the LBJ Hospital Chapel at 7am on Friday.
From there the funeral procession will head to the Amouli Congregational Christian Church for a church service, to be followed by wake services at Utu's guesthouse in Amouli.
And then at 1:30 pm Friday a second church service will be held at the CCCAS Amouli after which Utu will be laid to rest at the Utu Tia in Amouli.
A statement from the Utu family says Utu's passing "is a great loss" to their family.
"Utu was a compassionate family Sa'o. He always gave much more than us Utu Family matai for our faalavelaves. After a faalavelave, he usually would share his monetary gifts from others with members of our Family. He believed that our Utu Family members should spend more on building and fixing their homes and funding their
children's education and spend less on faalavelaves.
"Many times Utu would go by himself and give to the faalavelaves of families we were related to, without asking our Utu Family members to contribute. He often visited our family elders to give them food and monies and encouraged our family youth to be productive.
"Utu asked us Utu Family matai to be efficient in performing our cultural duties and to be respectful of other people's time."
The family statement concludes, "Our Utu Family members in American Samoa and around the globe mourn Utu's passing. We celebrate Utu's life. We thank God and Utu for his leadership of our Family. "