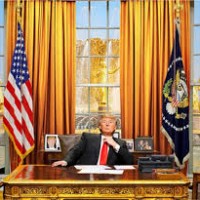 President Trump has signed the FAA reauthorization bill that includes a key piece of legislation for American Samoa.
KHJ News Washington correspondent Matt Kaye reports:
The president signed the five-year renewal of FAA programs, and with it, long-sought reform sto improve air service within American Samoa.
Cabotage reform is now the 'law of the land,' and will allow foreign carriers to renew their US waivers within American Samoa for 180-days, versus every 30-days, now.
By reducing airline administrative costs, it's hoped air fares will also come down.
Congresswoman Aumua Amata Radewagen pressed for her legislation for at least the last two-years…and through twists andturns, won final passage.
The bill passed in various forms, but never made it through both chambers, until a fate of circumstances landed in Amata's favor.
A bitter Senate confirmation fight over Trump's Supreme Court nominee Brett Kavanaugh, fast approaching November Congressional elections, and expiration of the old FAA authority on September 30th, all helped speed Senate action.
Senate leaders decided to put the House-passed FAA bill on the floor–the one that contained Radewagen's cabotage reforms for American Samoa.
Senate approval of the House bill avoided possibly difficult and time-consuming negotiations with the House.
President Trump signed H.R. 302 on Friday, reauthorizing the FAA through fiscal year 2023.
Senate passage of the House bill,93-6, ensured the measure and cabotage reform for American Samoa landed on the president's desk.