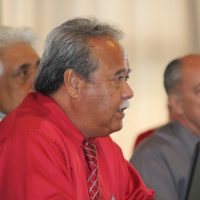 The alleged victim in the sexual assault case involving Fiu Johnny Saelua says she has never been contacted by the Independent Prosecutor to testify in the matter.
The woman told KHJ News that the only people she has been talking to were the two investigators Pierre Clemens and Henry Satele , and it was last Tuesday that Satele visited their home.  He wanted to verify that her mother was on island.
The woman who contacted KHJ News via victim's advocate Mrs Ipu Lefiti said she was concerned upon learning that the prosecution did not offer any witnesses in the preliminary examination for Fiu and as a result the felony charge against him was dismissed.
She was also worried that the initial cause of the problems between her and the defendant and his family, which was when immigration officers came to their house and took her and husband with the intention of sending them to Apia, is not being addressed in the court case.
According to the woman, immigration agents came to their house in 2016 and took her and her husband to the inter island dock.
She remembers her four year old child crying and calling for her as they were driving off.
According to the woman, one of the agents kept getting calls from someone he referred to as "chief."
She recalled that when they got to the dock the cargo for the Lady Naomi had already been loaded and they were calling the passengers.
She is thankful to the immigration agent who stopped them from leaving, because of the lack of documents, otherwise they would not be able to re-enter the territory and wonder what would happen to their two children.
The 33 year old woman said her immigration sponsor was Fiu's sister and as far as she is concerned she was well treated by her sponsor.
She said she and her husband have apologized to Fiu and his family and she would have forgotten about all the bad things the defendant did to her, if they hadn't tried to force them off the island.
The woman said she's not afraid to testify about the truth even though she knows she will not be an equal match for a leading matai and someone who holds a high position in the government.
But she is prepared to testify and tell the truth.