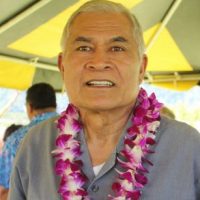 American Samoa is waking up to sad news this morning.  The beloved Executive Director of the American Samoa Power Authority Utu Abe Malae passed away early this morning at the LBJ Hospital.
Utu returned to the territory last Thursday night after many months undergoing medical treatment in the mainland.
Perhaps his last public appearance was at the Rotary Club and Hawaiian Air's Memorial for tsunami victims on Saturday.  He also attended family events that day.
Utu was one of American Samoa's outstanding professionals and was highly respected among federal agencies and the Pacific region as well.
He was director of Public Works, then took over ASPA at a time when rolling blackouts were the norm and was at the helm of the authority when it became semi autonomous.
Utu also served as Acting CEO of the LBJ Hospital and interim director of the Department of Port Administration, while still serving as ASPA Director.
Utu was also president of the Development Bank of American Samoa, was a senator and was also CEO of the CNMI Power Utilities Corporation.
In the Pacific region he was a founder of the Pacific Power Association and also the Pacific Water Association.
Under the Lolo administration Utu  chaired and was a member of several boards and task forces, among them the Territorial Bank of American Samoa Board, and the American Samoa Economic Development Authority Board.
He was also chairman of the republican Party of American Samoa.
In the community he is a past president of the Pago Pago Rotary Club and a driving force behind the community swimming pool.
Utu also ran for governor with running mate Saoluaga Nua and made it to the run off election which they lost to Togiola and Faoa..
Earlier this year before he fell ill while on a  business trip off island, many of his friends and associates were trying to convince him to make another run for governor in 2020.
At the tsunami memorial on Saturday Utu was in good spirits and appeared to be strong, though he had lost some weight.
As his friends and fellow Rotarians greeted him and told him welcome back he said, "it is good to be back."
It is with sadness that we have lost a man who served in so many capacities and had so much to offer for his homeland.  Our deepest condolences to the Utu and Malae families for their loss.