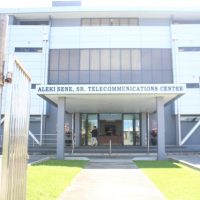 Failure of equipment with the local BLAST fiber systems is disrupting ASTA services in some parts of the island.
Since last week ASTCA customers have lost internet and landline services periodically.
KHJ News sought an explanation from Acting CEO Falavaoto Sualevai.
Late yesterday afternoon ASTCA issued a public announcemnt apologizing for the inconvenience caused to some customers as a result of issues with their CALIX equipment being used on Tutuila.
The announcement said the local BLAST fiber system is undergoing a long overdue software upgrade and while this is in progress! ASTCA has run into what CALIX support is calling " a bug" for some nodes in several areas of Tutuila.
ASTCA says the issues related to the local network equipment alone and is not in anyway connected to the Hawaiki submarine cable system or its internet providers off island.
Nor are the problems in anyway related to the capacity available on its network.
According to the announcement, not all system nodes are affectred, and not every subscriber in the affected nodes are experiencing service interruptions which is why it is taking longer than usual to isolate and fix the problem,
Other parts of Tutuila, Manu'a and Aunu'u are not affected.
ASTCA says their vendor support and development teams have been notified and they expect a permanent fix in the next day or two.
The authority is asking customers for their patience as the problems are being resolved.
BlueSky customers on the western end of the island have also experienced interruptions and KHJ News asked the private phone company for an explanation.
As of this morning BlueSky had not given a response,