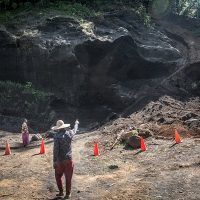 Samoa Police have released the names of the three men who died when an embankment caved in on them on Monday afternoon at Tafua-tai on Savaii island.
The deceasedare, Meki Mata'u, 34, of Tafua and Puipaa in Upolu, Fogalefatu Tiatia, 37, of Gataivai, Savai'i and David Laloata, 42,  of Tafua.
In a FaceBook post, Samoa Police Service said Tuasivi police are currently investigating the deaths of 3 men from the landslide incident at Tafua-tai, Savaii. The incident occurred at around 2 pm on Monday, September 10, 2018.
"Police preliminary investigation indicates that a businessman from Satupaitea and 7 of his workers went to mine soil from Tafua-tai," said the post.
"It is believed that this may have caused the nearby embankment to cave in and buried the workers".
Police said the men were all taken to the Tuasivi hospital where three of the men were declared dead on arrival.
The bodies of the deceased have been released to their families and coronary enquiries are set for mention on October 24th, 2018.
Meanwhile police have closed down the operation while they continue their investigations into the accident.