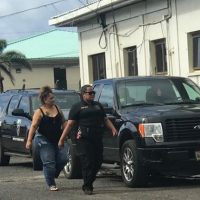 Commissioner of Public Safety Lei Sonny Thompson has confirmed that police executed a search warrant issued by the court of the Aute premises this morning.
He would only say that many people were taken into custody and some arrests have been made but would not go into detail.
Le'i said that interrogations are continuing which may take the whole night.
As KHJ News reported at noon, armed  policemen conducted a raid of the Aute cluib this morning,
KHJ News was at the vicinity of the substation west when a convoy of DPS trucks and SUV's turned in after executing the raid.
It's understood that among the people whom police transported to the substation was the owner of the Aute and many young people believed to be sellers.
Police vehicles were seen rushing back to the Aute shortly after the first group was taken to the substation west.
Information received by KHJ News indicates that the police vehicles were shot oat during that second response as they were arriving at the Aute premises.
A man who appeared to be in his late 20s or early 30s was brought in handcuffs when the cops returned to the substation.