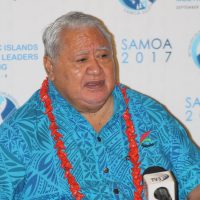 American Samoa, through the American Samoa Telecommunications Authority, was offered bandwidth on the Tui Samoa submarine communications cable at a much cheaper cost than it is now paying to hook up to the Hawaiki Cable.
Samoa Prime Minister Tuilaepa Sailele Malielegaoi revealed to KHJ News yesterday that he always thought American Samoa would sign on to the Tui Samoa cable which was offered at $US10million.
"But they chose to go with Hawaiki Cable at $35million so we had to sign off on the contract with our other partners," said Tuilaepa.
(KHJ News points out that the total cost of the Hawaiki cable as quoted by the Acting CEO of ASTCA Ms Falavaoto Sualevai on the day that the new cable was launched is $29 million)
The Samoa Prime Minister said American Samoa came back afterwards and wanted to join but it was too late.
"So we said we could make our own special agreement to hook up between the two countries."
Tuilaepa said he wrote to American Samoa giving them that option.
"It's now six months and I still haven't heard from them" he said.
Governor Lolo Moliga had told the Samoa Observer in May of last year that American Samoa would be paying $12 million to hook up to the Tui Samoa Cable.
Further since the territory will be seeking funding from the federal government to fund its share of the cable, the feds have concerns about the cable being laid through foreign countries.
So far the Hawaiki Cable has been funded by loans from the American Samoa Government Employees Retirement Fund.
While there were initial plans for ASTCA to loan from the Rural Utilities Service of the US Department of Agriculture,  there hasn't been any further word on whats become of ASTCa's application.