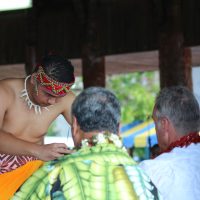 The bestowal of the honorary matai title Fofoga o Samoa on US Secretary of the Interior Ryan Zinke during his stop over in American Samoa last Thursday is highlighted in a press release from DOI concerning the secretary's Pacific visit.
The press statement states that while in American Samoa the traditional leaders bestowed upon the Interior Secretary the chieftly tittle of Fofoga o Samoa which translates as "Voice for Samoa."
The statement quotes Zinke saying, "It is with great honor that I accept this title bestowed by the people of American Samoa.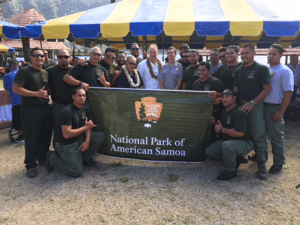 "It is highly symbolic and appropriate given my responsibilities for fellow Americans in the U.S. territories.
He adds, "This trip to the Pacific has been about the United States' commitment to the security and prosperity—not only of our friends and neighboring Pacific Islands, but also of our U.S. territories in the Pacific.
"A secure and stable Pacific relies on the strength and security of the U.S. Pacific Islands of Hawaii, Guam, Saipan, and American Samoa. I am humbled by my role as a voice not only for Americans in American Samoa, but in all our territories."
The DOI press release said that on American Samoa, the Secretary visited the Lyndon B. Johnson Hospital, the StarKist tuna cannery, and the Veterans Clinic.
He also met up with the American Samoa National Park Service Squad 61 Firefighters who recently returned from a tour in California fighting fires—where they were also appreciated for their singing skills.
"It was here during the penultimate stop on the Secretary's Pacific Islands tour that High Chiefs Mauga and Misa bestowed upon him the title of Fofogao Samoa.