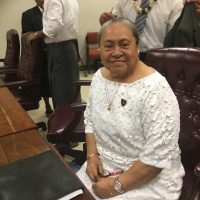 Governor Lolo has signed into law the bill changing the age of marriage for girls from 14 to 18.
The governor said the law "will help protect our young women who are still growing and maturing at this young age."
He added, "It will allow them the opportunity to exert more control over their lives, to choose a patch in life that is of their own desire, and it will help place them on equal footing with our young men."
The new law, which was sponsored by Representative Fialupe Fiaui Lutu,  makes 18 the marriage age for both boys and girls.
In a survey by a women's advocate group, Pae ma Auli, 97 percent of respondents disagreed with the 14 year marriage age for girls and wanted it increased to 18 or 21.