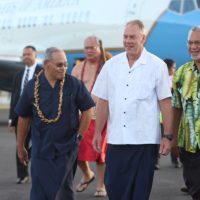 A grant of $50,000 that was announced by the Director of the Office of Insular and International Affairs Nikolao Pula last Thursday will be used to compile and print a Tusi Faalupega or book of traditional honorific titles for Tutuila and Manu'a.
Pula told KHJ News that when discussions were held concerning DOI funding for the Fale Samoa at Suiga ula, the objective was to preserve the culture and educate young American Samoans about traditions and the history of the territory.
He said the Tusi Faalupega was to be compiled as part of the project.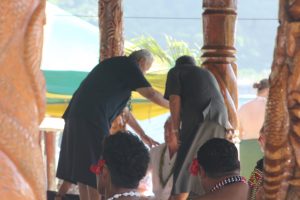 Another facet of the cultural maintenance initiative was to provide information on the origins of the names of villages.
This was during the tenure of the late Secretary of Samoan Affairs Tufele Li'amatua.
Pula said after the fale was completed his office didn't hear anything more about the Tusi Faalupega idea.
Last Thursday during the visit of Secretary of Interior, during which he was bestowed the honorary title Fofoga o Samoa, at the very Fale Samoa that Interior helped fund, Mr Pula felt that was an opportune time to announce that the grant was still available.
The OIA Director said his office will await a proposal from ASG for the book project.
Pula pointed out that its one of the objectives of the Department of Interior to help preserve the culture and history of native communities and the Tusi Faalupega serves that purpose.
He said it's also an educational tool for the youth.
Once completed the publication  will be the first Tusi Faalupega specifically for Tutuila, Aunuu and Manu'a.