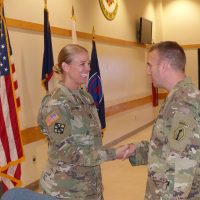 At a change of command ceremony yesterday at the Konelio Pele Reserve Center, Captain Carneen Cotton who has been commander of the Charlie Company passed the baton to Captain Timothy Shea.
The change of leadership was witnessed by Congresswoman Aumua Amata, Lt Governor Lemanu Peleti Mauga,  a few directors and friends of the outgoing commander.
Also present were Army Reserve officials from Honolulu, Lt Colonel Matthew Cloud, Battalion 442nd Infantry Regiment Commander, along with soldiers from Charlie Company.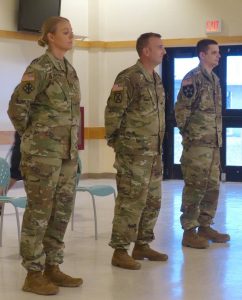 Lt Col Cloud commended outgoing Captain Cotton for her work with the local reserve unit, such as recruiting efforts with the Veterans Day run and reservists participation in the Flag Day fautasi race.
He wished Captain Cotton well in her future post and welcomed the incoming Captain Timothy Shea.\
Captain Cotton recalls the first words she heard when she arrived.
Play Audiousar_cotton3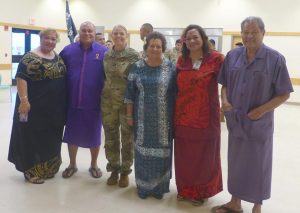 Captain Cotton leaves the 442nd  to join the 926th Engineering Brigade in Montgomery, Alabama and says she will take some of the lessons she learned here with her.
Play Audiousar_cotton