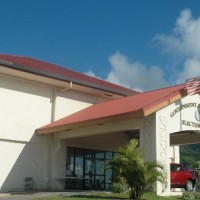 Two incumbent members of the House of Representatives are running unopposed in the November 6th general elections while one incumbent is not seeking re-election.
The two who are not facing any challengers are Vailoata Eteuati Amituanai of District #7 – Mauputasi No. 1 and Titialii Kitara Vaiau of Saole.
Toeaina Faufano Autele who represents Manu'a District No 2 has decided to retire from politics and is not seeking re-election.
In the congressional race, incumbent Aumua Amata faces challengers Meleagi Suitonu Chapman and Tuika Tuika, a previous gubernatorial candidate.
The deadline for nominating petitions to be filed with the Election Office was Saturday, September 1.
Fifty-five individuals are contesting 20 of the 21 seats in the House.
The remaining seat is for Swains Island which selects their representative in a meeting of Swains islanders.
Seven of the candidates are women including the two incumbent female House members, Vui Florence Saulo and Fialupe Fiaui Lutu.
Tuala-uta District which has two seats has the most number of candidates, eight, including former representatives Larry Sanitoa and Tapumanaia Galu Satele Jr.
The House Speaker Savali Talavou Ale is being challenged by two women, Fatumalala Al-Shehri and Mona Uli.
Several first time contenders are on the list of candidates, some are ASG employees , while others are retired from ASG or the military. A few are from the private sector.
Click here for the list of candidates.Determination004