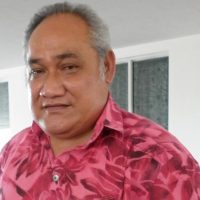 Customs scrutiny of imported goods shipped into Samoa by containers will soon be easier with the proposed introduction of a mobile x-ray scanner.
The Newsline Samoa newspaper reports that the $4m US dollar x-ray scanner comes under the bigger, Port Development Project, funded by the Asian Development Bank, ADB, at a total cost of $36m US dollar.
The head of the ADB Office in Samoa Maria Tagiilima confirmed the overall project funding costs and the requirements for the x-ray scanner.
She explained the actual project is already under process for the developments needed for the Apia port like the breakwater extension, but with the customs x-ray scanner, realistically it should be in place by next year.
According to the report many options were examined to determine the more feasible model for use in the Samoa situation.
"A stationary building could pose some problems with containers trucked in to be scanned, whereas a mobile x-ray will simply drive past the container," Revenue Minister Tialavea John Hunt told Newsline Samoa.
But the Minister says it will not fully do away with manual visual inspections.
Tialavea pointed out, "There will still be follow up inspections by Customs officers on selected containers but not everyone."