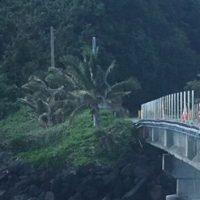 An accident on the Ofu Olosega bridge claimed the life of an employee of the Department of Port Administration yesterday afternoon.
Witnesses reported from Ofu that the victim was driving alone when the vehicle crashed into the side of the bridge and the vehicle plunged into the sea.
According to sources in Manu'a the man was unable to open the door and get out of the vehicle.
He was apparently dead by the time rescuers got to him.  The victim was in his late 40's.
The accident happened after 12 pm yesterday.
Officers from the Department of Public Safety were dispatched to Ofu yesterday afternoon to investigate the accident.
They accompanied the victim's body to Tutuila yesterday evening.