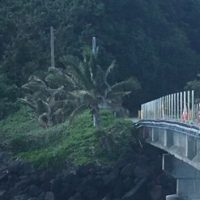 The victim of the accident on the Ofu Olosega bridge yesterday afternoon has been identified as Palea Palea Jr of Ofu, Manu'a.  He was the Ofu Airport supervisor and has been with Port Administration since 1996.
Deputy Director of Port Administration Christopher King said Palea was a very hard worker, and a trusted and conscientious employee of Port Administration.
He  expressed condolences to Palea's wife and children and said ASG has lost a valuable employee.
Commissioner of Public Safetry Le'i Sonny Thompson has yet to provide information about the accident but according to reports from Ofu and Olosega, the Port Adminsitration truck that Palea was driving crashed into the bridge railing and the truck plunged into the ocean.
He was apparently unable to get out of the vehicle and drowned inside the truck.
The accident happened after noon yesterday.
Palea's body was flown from Ofu  yesterday evening accompanied by CID officers and EMS personnel from Tutuila who had flown to Manu'a earlier in the day.