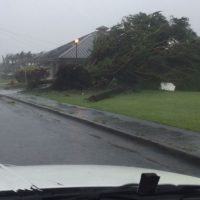 The amount of federal assistance that has been approved and pending for American Samoa as a result of Tropical Cyclone Gita tops $60 million.
This is the sum of FEMA individual and public assistance for damages, SBA assistance and ASG's insurance claim of $18.6 million.
Lulu Barber of the Department of Treasury gave a report of the federal assistance at today's cabinet meeting.
Play Audio
One of those making a presentation at today's cabinet meeting was Peter Fuimaono.
A memo which was issued late last month and as far as KHJ News can gather has yet to be rescinded, appointed Elizabeth Perri as Acting Insurance Commissioner until a permanent commissioner is named.
But it appears that Fuimaono still holds the position of Insurance Commissioner .
He was introduced as the Insurance Commissioner at today's meeting and gave an update on ASG's insurance claim.
ASG is claiming damages and losses to ASG property caused by Gita of $18.6 million.
Fuimaono said that the insurance adjustor has reviewed ASG's report and he expects to receive word about a progress payment next week.
The interim or progress payment would be 30% of the total claim, or $6.3 million.
Fuimaono said over the next three months , ASG will be submitting documentation to justify the insurance claim to ASG's insurer, Lloyds of London.