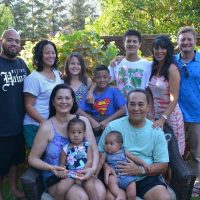 Relatives, friends and business associates are mourning the loss of the owner of Shoe Tree George Henry Charles Reid.  Reid passed away July 31, which was the date he and his wife Bobbie wedded 47 years ago.
With him by his bedside at Clovis Community Medical Center was Bobbie, son Tyrone and his wife Renisha and niece Sandi.  Reid was 72.
Mrs Bobbie Reid shared that her husband had not been feeling well since September of 2016 and  in January of last year they left their home in Vaitogi and the Shoe Tree Store which they opened in 1975, to seek medical treatment off island.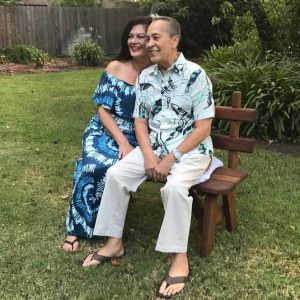 The Shoe Tree became the territory's first store dedicated to the feet and those who became loyal customers not only from the territory but from Samoa, New Zealand and the region, associated it with good quality American brand name shoes and accessories for the feet.
The store first opened at the Nu'uuli Shopping Center and later branched into Fagatogo at the old GHC Reid.
It moved around in Gataviai and Fagatogo before it opened a new branch in Nu'uuli.
The present two story building which is the home of Shoe Tree is the sum of years of hard work and perseverance by George and Bobbie Reid in building their business.
The couple, according to workers, treated them as family and that is why there was very little turnover in staff and the Reids were able to go away on long business and family trips and leave the store in the hands of dedicated staff.
Bobbie says all who knew George knew he had lots of zeal for life.
She adds that her husband had a lot of pride for his village of Pago Pago and loved his family and friends dearly.
He was also "a very hard worker."
Nieces and nephews of George describe him as a kind and generous uncle who would not turn them away when they needed his help.
Several traveled to see "Uncle George" upon learning that he was ill.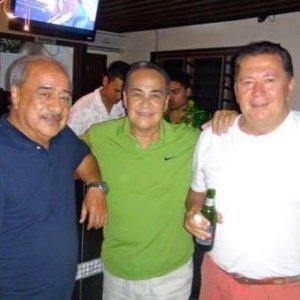 Other than Bobbie, the other person that George was inseparable from was his long time friend Vaitoa Hans Langkilde.
Vaitoa said theirs was a special friendship, "more like being brothers."
He reminisces, "We shared a lot of interest and practically did everything together. I'll miss his love for family. He treated my family like his own."
Vaito'a shared that another factor that connected them was that both their dads died while they were young leaving their mothers to raise them.
He told KHJ News he will miss talking and sharing with George, "especially his humor, he was one of the best even at long distance" and also their music.
Vaito'a said, "There is so much to say about our relationship…everyone knows if one is somewhere, the other is close by.  Rest in peace my brother with all my alofa."
George Reid is survived by his wife Bobbie, three children and six grandchildren.
Relatives and friends will celebrate his life on August 18 in Clovis, California.
KHJ News extends heartfelt sympathies to Mrs Reid and children as they grieve the loss of their husband and father.