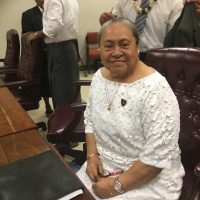 If the sponsor of the bill to change the age that girls can marry from 14 to 18, has her way, there will be no further hearings in the House on the bill.
Representative Fialupe Fiaui Lutu introduced her bill in the House this morning and it was referred to the House Legal Affairs/ Judiciary Committee chaired by Toeaina Faufano Autele.
When Faufano asked Mrs Lutu for a recommendation on witnesses to testify on the bill, she said she didn't see a need for any more hearings on the bill which was approved by the House in the last session.
She said she has talked with some of the senators and they are waiting for the bill to get there.  The bill was rejected by the Senate in the last Fono session.
But Fagatogo faipule Vailiuama Steve Leasiolagi told the chamber not to rush into approving the bill.
Vailiuama said marriage is a sacred sacrament and he felt members of the clergy should be invited to testify on the bill because as he put it, church ministers are the ones who perform "the sacrament of matrimony."
Rep Lutu commented that she wants to protect the good name of the House because the public would ask why the clergy wasn't invited when the bill was first discussed.
Committee Chairman Toeaina had earlier suggested that the only witness to call in would be Senator Nuanuaolefeagaiga Saoluaga Nua as he was quite vocal in his opposition to raising the marriage age for girls.
Vice Speaker Fetu Fetui however didn't think this was a wise move because he said senators are fathers of the territory and the two chambers have to observe mutual respect.
Besides he said Senator Nuanuaolefeagaiga was he and fellow Manu'a faipule Vesi Fautanu's father.
The committee is to meet tomorrow to discuss a date and witnesses for a hearing on the marriage age bill.
In the Senate, a resolution authorizing a three week recess was approved by unanimous vote.
The recess will begin after the Friday session and the Fono will reconvene on August 6,
Senate President Gaoteote Palaie Tofau also announced today that a groundbreaking for the new Fono building will be scheduled when the Fono resumes.
He said he and the House Speaker have decided that  the groundbreaking ceremony will be planned for the week of August 6 when lawmakers return to work.
The new Fono building is one of the projects to be funded with proceeds of the bond sale by the American Samoa Economic Development Authority as well as CIP money.
Designs for the new building were done by Lively and Associates of Honolulu which also designed the Centennial Building and the Bank of Hawaii in Tafuna.
Paramount Construction was picked to demolish the old Fono building and conduct soil tests of the construction site.
No information has been made available on who will build the new home of the American Samoa Legislature.