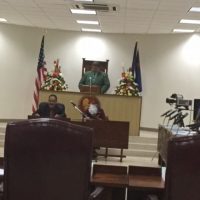 Rep. Vesi Talalelei Fautanu is adamant that the drug problem that's taken hold in the territory needs to be tackled head on. And he feels tougher legislation was needed now to tackle the drug disease.
During the House session this morning,  the Manu'a faipule said the adults who are involved are robbing the youth of a good future and the law must be toughened to combat what's happening.
He said not a day goes by without news reports about drugs in the media.
Pointing to the discovery of drugs in the LBJ Hospital mail, Vesi said this is how serious the problem has become.
Earlier Rep. Lavea Legaee Mauga called on the House Health Committee to conduct a hearing on the drugs found in the hospital mail.
He said there's been no word on what's happened as far as investigations into this case.
Vesi, who chairs the Health Committee said that DPS is still investigating the hospital drug case and the Hospital Authority Board is doing its own probe.
Therefore any hearing would be pre mature and the Hosue has to wait until the investigations by the police and hospital board are complete.
Rep. Faimealelei Anthony Allen, a member of the Hospital Authority Board also informed the House that the DPS is working with federal agents on this case.
Rep Vesi asked that committees be allowed to conduct hearings during the planned three week recess because he said members of the public are waiting for answers on a lot of issues.
The Manu'a lawmaker said by holding hearings during the recess, committees will be armed with the information they need when the Fono reconvenes.  He also pointed out that the budget bill will be the main agenda item taking up session days after the recess.
Vice Speaker Fetu Fetui, who chaired today's session gave the go ahead for committees to conduct hearings during the recess.
He said that the government is not in good shape and some departments need help from the Fono.
The departments and authorities he named with problems were the American Samoa Power Authority, where he specifically mentioned the departure of Managing Director Paul Young, the American Samoa Telecommunications Authority, where he said some of the staff have expressed concern about the status of the authority since the passing of former CEO Puleleiite Tufele Li'amatua,  the LBJ Hospital, where drugs were found,  the Department of Public Safety with many criminal cases under investigation and the Office of the Attorney General.
Fetu did not specify the cause of concern with the AG's Office.
The vice speaker also commented that the relationship between the Fono and the executive branch is not good but he did not elaborate.