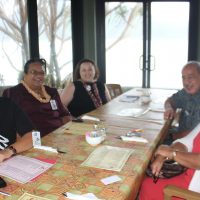 The President and CEO of the National Assembly of State Arts Agencies (NASAA), a non government organization which helps states and territories improve their services for the arts sees her visit to the territory as a door opener for her organization to help the American Samoa Council on Arts, Culture and Humanities.
Pam Breauz who arrived here Friday returned to Washington D.C,  this morning.
Her organization receives funding from the National Endowment for the Arts (NEA) and her brief visit gave her an appreciation of the limited resources the Arts Council has to work with.
Breauz said in an interview with KHJ News, the NEA does not impose what services and programs should be offered locally. Rather this has to come from the local community.
Play Audio