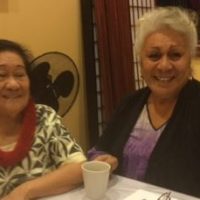 Representative Fialupe Fiaui Lutu intends to introduce today her bill to change the marriage age of girls from 14 to 18.
The Sua #1 representative said she was ready to have the bill introduced on the first day of the fourth regular session  yesterday however legislation that was on the calendar was put back until today.
The reintroduction of the bill would be welcome news for a woman's advocacy group, Pae ma Auli, which conducted a survey to gauge community awareness about the marriage age.
On the survey's main question, "Do you support 14 as the marriage age of girls?" 3% answered yes and 97 percent answered no.
When senators turned down the House bill to increase the marriage age to 18, one of the reasons they cited was that if a girl of that age becomes pregnant, her parents would want to marry her off so that the child would have both a mother and father.
A member of Pae ma Auli, and victims advocate Ipu Lefiti points out that in her work, she's seen many cases where girls are impregnated by relatives. She feels the argument cited by the Senators deserves close scrutiny.
Play Audio